Press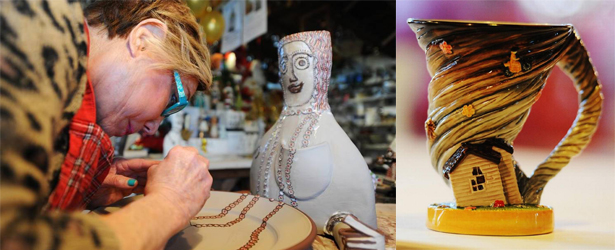 The following are links to articles and press releases:
Kansas City Star: Irma Starr, noted KC ceramicist, creates whimsical pottery for NCECA conference (3/11/16): Kansas City ceramicist Irma Starr adds details to a plate, one of the pieces she calls "colorful, playful dinnerware." She is creating the pieces in honor of the 50th annual conference of the National Council on Education for the Ceramic Arts, which is in Kansas City this week.Read more here: Read full story.
---
Kansas City Star: Gifts for the Home & Office (11/29/15): I had seen photographs of artist Irma Starr's holiday ornaments, but had never held one until recently, when I bumped into her signing them at at Hall's on Grand. She creates the ornaments using a 17th-century slipwear pottery technique that she's known for. Read full story.
---
Nelson Atkins Museum of Art: Press Release
(11/21/11): The Chamber, Nelson Atkins Museum and Artist Irma Starr Collaborate to Benefit to Joplin Survivors.
Read more.
---
Smithsonian American Art Museum Acquires Irma Starr Commemorative Plate Celebrating Renwick's 30th Anniversary (11/4/2002) The Smithsonian American Art Museum has acquired "The Renwick 30th Anniversary Plate," 2002, by Irma Starr. This ceramic plate, crafted using 17th-century English slipware pottery techniques, is a special piece presented to the Renwick Gallery of the Smithsonian American Art Museum through the generosity of patrons and supporters of Starr and is now hanging in the permanent collection galleries.Read article
---
Featured Video:
FOX 4's Carey Wickersham watched some of her techniques, and spoke to Starr about her passion for passing them on.